SOUTH AFRICAN CORPS OF SIGNALS
OFFICER'S PATTERN,
GILT AND SILVER.
1923 – 1961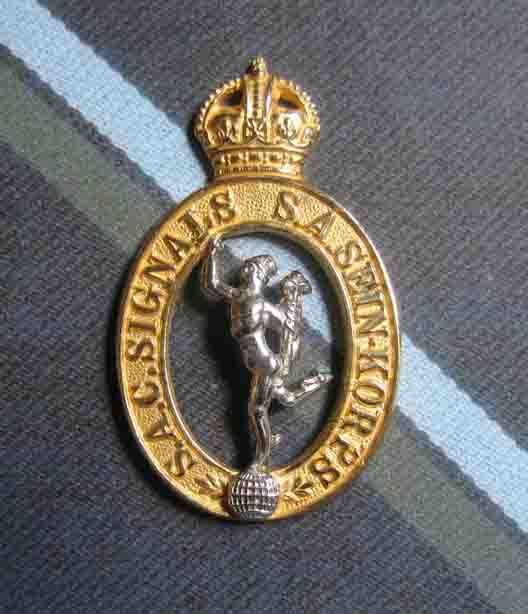 The above illustration is of the second of the Officer's Pattern cap badges for the South African Corps of Signals (Active Citizen Force) as well as the Permanent Force (PF) and in this case it is made of Gilt and Silver plate, as with many other officer's badges of the period.
It is interesting to note that as with the Bronze version of this badge and the Other Ranks Bi-Metal version, unlike most other countries of the Commonwealth who changed the crown on the top of their badges from a Tudor Crown to the St. Edward's Crown in 1954. The South African Corps of Signals continued to use the same cap badge with the Tudor Crown right up until they became a Republic in 1961.
In my original write up for this cap badge I stated I had no idea why the Tudor Crown was not changed in 1954 to the St. Edwards Crown like other Commonwealth Countries did. I have now been advised by Major Brian Austin (Ex SACS from 1963 to 1984) that the reason for this was as follows. "South Africa after 1948 had a Nationalist Government with decidedly Anti-British views. Many of these leaders had been interned during WWII. Therefore there was no enthusiasm for the British trappings on regimental badges etc, and in fact moves were already afoot under F.C. Erasmus, the then Minister of Defence, to remove the crown and so on altogether." This of course did happen when the country became a Republic in 1961, after the referendum of 1960.