FEDERATION OF MALAYSIA
CORPS OF SIGNALS.
BI-METAL (RIGHT FACING).
1952 - 1972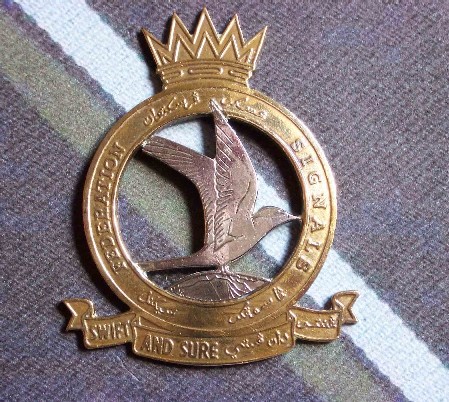 The Royal Regiment of Signals traces its history back to 1949 when a Communication Troop was raised at Port Dickson. On the 15th November 1952, the Corps of Malaysian Signals was legally instituted.
The Federated Malay States Volunteer Signals had its own cap badge which was very similar to the Royal Signals cap badge of the time but had the inscription FMSVF Signals and was surmounted by the Malay Crown.
In November 1955, the Corps received its own cap badge illustrated above, incorporating the Sea Tern and a scroll with the motto of Swift and Sure in both English and Malay and Federation Signals on the roundel. The design of the badge shown above is heraldically incorrect as the Sea Tern faces to the right, this error was corrected on later badges. The design in general lasted until 1974 when the Army Dress Committee ruled that all personnel wear the same dress.
On the 9th June 1992, the Corps became a Royal Corps and the name changed from Regiment of Malaysian Signals to Rejimen Semboyan Diraja (Royal Signals Regiment).