AUSTRALIAN CORPS OF SIGNALS
OFFICERS PATTERN, ENAMEL AND GILT.
CIRCA 1930's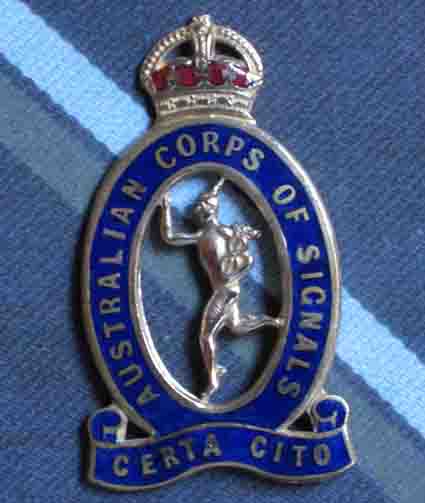 The above illustration is that of a fairly rare and rather nice Australian Corps of Signals Officer's Pattern enamel and gilt cap badge.
This badge is made of Blue and Red enamel on a Gilt base and looks very similar to a "Sweetheart" pin, but is a genuine cap badge. I have no actual knowledge as to the exact date of the badge other than the design date of other versions of the same badge which was 1931 to 1941.
There is a train of thought that the badge may have been purchased by individual officers and only worn for a short number of years.
Cliff Lord the co-author of The Royal Corps of Signals: Unit Histories of the Corps (1921-2001) and its Antecedents. Has been most helpful but unable to assist me further with this particular badge.