ROYAL NEW ZEALAND CORPS OF SIGNALS
OFFICER'S GILT AND SILVER CAP BADGE
1954 - 1973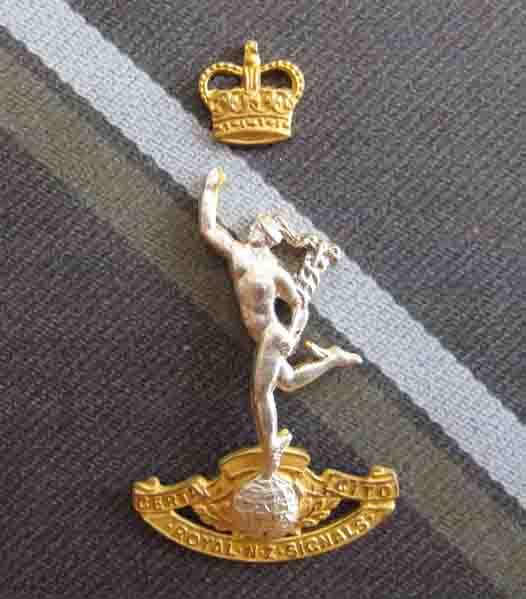 Although the above illustrated Officer's Gilt and Silver cap badge for the Royal New Zealand Corps of Signals is of the current design, I am fairly sure that although it may have been issued due to stock availability and even worn by it's owner past this date is was made during or before 1973.
The reverse of this badge quite clearly shows an embossed letter "S" indicating that the "Jimmy" was made of Silver. If there had been an embossed letter "P" it would have indicated that the "Jimmy" was in fact Silver Plate.
Secondly, it also has the stamp of J. R. Gaunt London. The Company J. R. Gaunt Limited of London was sold to The Birmingham Mint Company of Birmingham in 1973 and any badge after that date would and indeed did have the stamp J. R. Gaunt Birmingham.
J. R. Gaunt Limited was sold by The Birmingham Mint Company to Firmin & Sons plc on the 19th February 1991.