ROYAL NEW ZEALAND
SPECIAL AIR SERVICE SIGNAL TROOP
OFFICERS BULLION (UNOFFICIAL).
1966 - CURRENT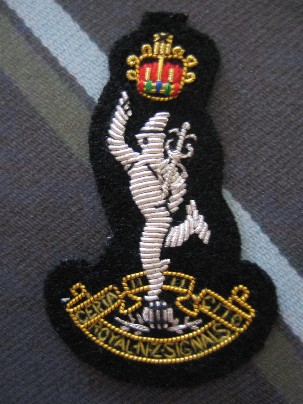 At first sight this Officer's Bullion beret badge of the Royal New Zealand SAS Signal Troop looks identical to that of the Royal New Zealand Corps of Signals.
Although the design is the same there are a number of discreet differences. Firstly, the backing of this badge is on black felt opposed to green felt for the Corps of Signals.
Secondly, the globe that "Jimmy" is standing on is white and not gold as well as the wings on his feet and his Petasus (Headdress).
Lastly, the finger on his outstretched right hand is white again instead of gold as with the Corps of Signals badge.
In keeping with many other SAS Regiments, this badge is worn on the famous sand-coloured beret.