CANADIAN DEFENCE FORCE.
COMMUNICATIONS AND ELECTRONICS BRANCH.
EMBROIDERED CLOTH, OFFICERS PATTERN.
1972 - CURRENT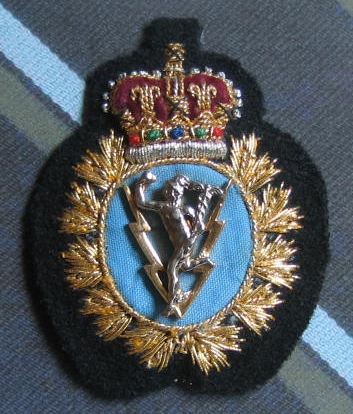 This rather attractive version of the C & E Branch Officer's Pattern Embroidered Cloth and Metal cap badge was issued for wear with the Blue Forage Cap. (Now obsolete) and I am lead to believe was an Officer's "Purchase" item.
All ranks of the C & E Branch were actually issued with the metal C & E cap badge and according to the Webmaster of the internet site www.rcsigs.ca Mr Joe Costello officer's were politely requested to purchase this badge when receiving their Blue Forage Cap.
Cadet officer's would most certainly have worn the Metal version initially, and changed once they had graduated.