CANADIAN SIGNALLING CORPS
OFFICER'S PATTERN, GILT & ENAMEL
CAP BADGE
1908 - 1921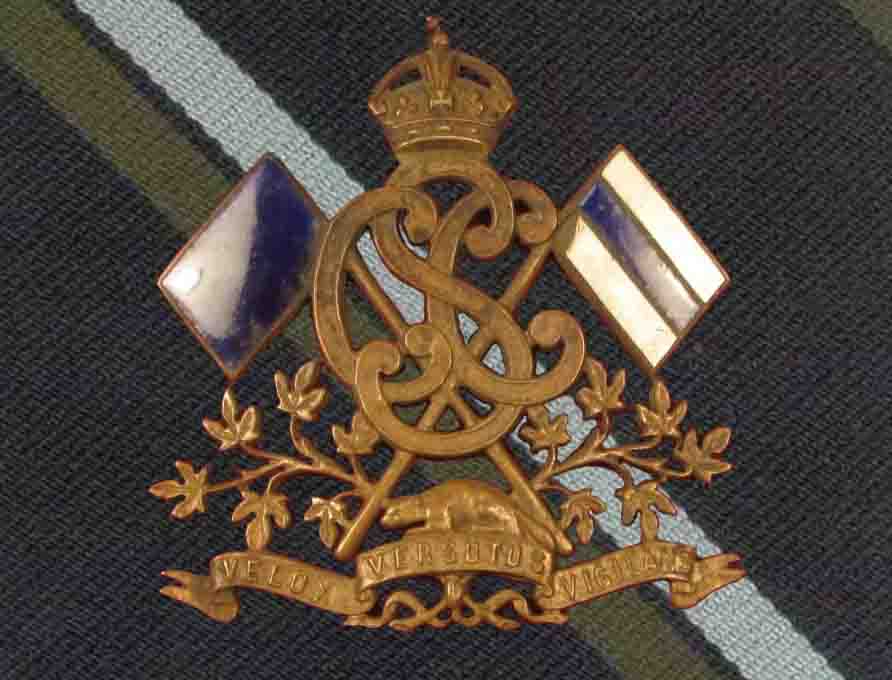 The above illustration (Unfortunately not mine) is the Officer's pattern of the Canadian Signalling Corps Gilt & Enamel cap badge as authorised under General Order 33 of March 1908.
Although the above badge was not authorised until 1908 it must be remembered that authorisation for the Canadian Signalling Corps "(Militia)" (CSC) was actually given in General Order 167 of 24th October 1903. The first independently organised Signal Corps in the British Empire It's authorised establishment being 18 Officers and 60 other ranks. At this time there was no Permanent Force counterpart. The Corps was renamed the Canadian Signal Corps in 1913.
The illustration below from the Ewan Cameron collection shows the Officer's collar badge that complimented the cap badge above with gilt on brass and enamel flags. There were no complimentary collar badges manufactured at this time and badges were obtained by private purchase. It should also be noted that the beaver pointed to the left on both the left and right collar badges.