CANADIAN DEFENCE FORCE.
COMMUNICATION AND ELECTRONICS BRANCH,
OTHER RANKS, BI-METAL.
1972 - CURRENT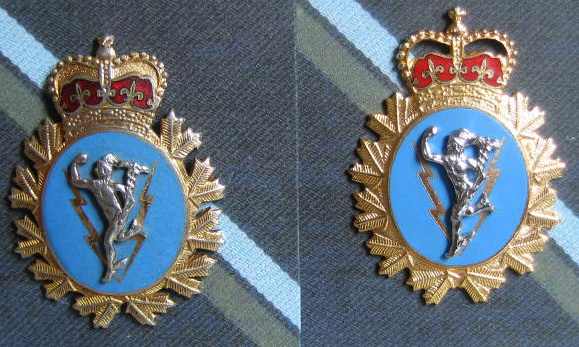 Non-Voided Badge Voided Badge
On the 1st October 1968 the integration of the Canadian Defence Forces took place, Royal Canadian Signals personnel. Royal Canadian Electrical and Mechanical Engineers radio and radar technicians. Royal Canadian Air Force telecommunications personnel and Royal Canadian Navy radiomen special were grouped together to form the new Communications and Electronics Branch. All former single element corps and branches ceased to exist from this time.
The cap badge of the Communications and Electronics Branch (C&E) was approved on the 10th April 1972.
I have illustrated the two versions of this cap badge as can be seen above. The badge on the left is the Non-Voided version where you can not see through the St Edward's Crown. The Voided version on the right has a St. Edward's Crown that can be seen through. I believe the Voided badge is the current issue.