ROYAL CORPS OF SIGNALS
51st HIGHLAND DIVISION SIGNAL REGIMENT
PIPERS PLAID BROOCH
1948 - 1954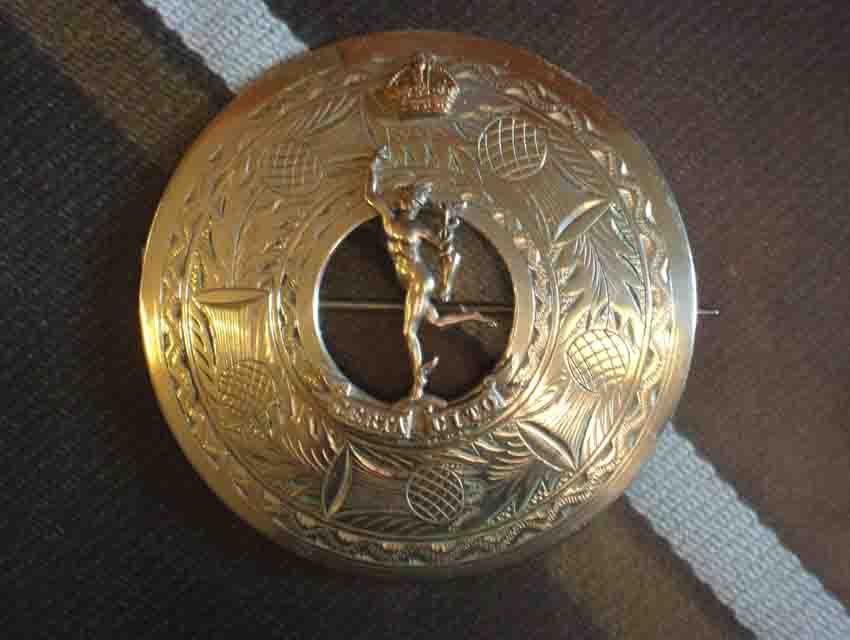 Photo Courtesy of the Ian Harrison Collection
It is my honest belief that the above illustrated Plaid Brooch was worn by a piper from 51st (Highland) Division Signal Regiment Pipe Band. My reasoning for this is based on the history of the Queens Gurkha Signals a small portion of which I quote. " Major L. H. Gregory MBE Officer Commanding the Gurkha Signal Squadron at the time, proposed in 1952 that they should have a pipe band and to this end an affiliation with a Scottish Regiment should be formed. At this time the only pipe band in the Royal Corps of Signals was 51st (Highland) Division Signal Regiment". This affiliation was officially confirmed on 13th November 1955.
The Plaid Brooch above clearly shows the Tudor Crown on the 1946 pattern badge which did not change to the St Edwards Crown until 1954. As previously stated many a piper was still wearing the old Tudor Crown badge well after 1954.
It is interesting to note that this particular Plaid Brooch has a Scottish Thistle pattern around the quoit. Different to the other Plaid Brooches that I show on this site which have a plain quoit.