ROYAL CORPS OF SIGNALS
61ST (CITY OF EDINBUGH) SIGNAL REGIMENT TA
PIPERS GLENGARRY BADGE
1957 - 1967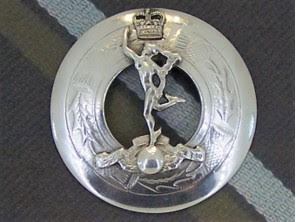 This Regiment has had several names from it's inception in 1939 as 3rd Anti Aircraft Division Signals TA as part of 3rd Anti Aircraft Division. In 1940 absorbed into 12th Anti Aircraft Division Signals. Again in 1942 as part of the Anti Aircraft Command was amalgamated into 6th Anti Aircraft Group (Mixed) Signals until demobilisation in 1945.
The Regiment was reformed in 1947 as 13th Anti Aircraft (Mixed) Signal Regiment TA and remained with this name until Anti Aircraft Command was disbanded in 1955.
The Regiment was formed again in 1957 as 61st Signal Regiment TA and in 1962 was granted the title of 61st (City of Edinburgh) Signal Regiment TA. It was at this time the Regiment formed it's own Pipe Band under the stewardship of Pipe Major James Kamp Frame until 1965 when Pipe Major Alexander Taylor took over until the Regiment was finally down sized in 1967 to become 61st (City of Edinburgh) Signal Squadron (V) as part of 32 (Scottish) Signal Regiment (V).
Although I have no provenance to prove the fact, it is thought that the above illustration kindly provided from the Phil (Drummajor) Jones collection is of a 2" Chromed Glengarry Badge with the Royal Signals device in the middle and the St. Edward's Crown and hence was produced by the Regiment to be worn by the Pipe Band from 1962 until 1967.