ROYAL CORPS OF SIGNALS.
69 (NIH) SIGNAL SQUADRON (V)
CAP and COLLARS
1969 - Current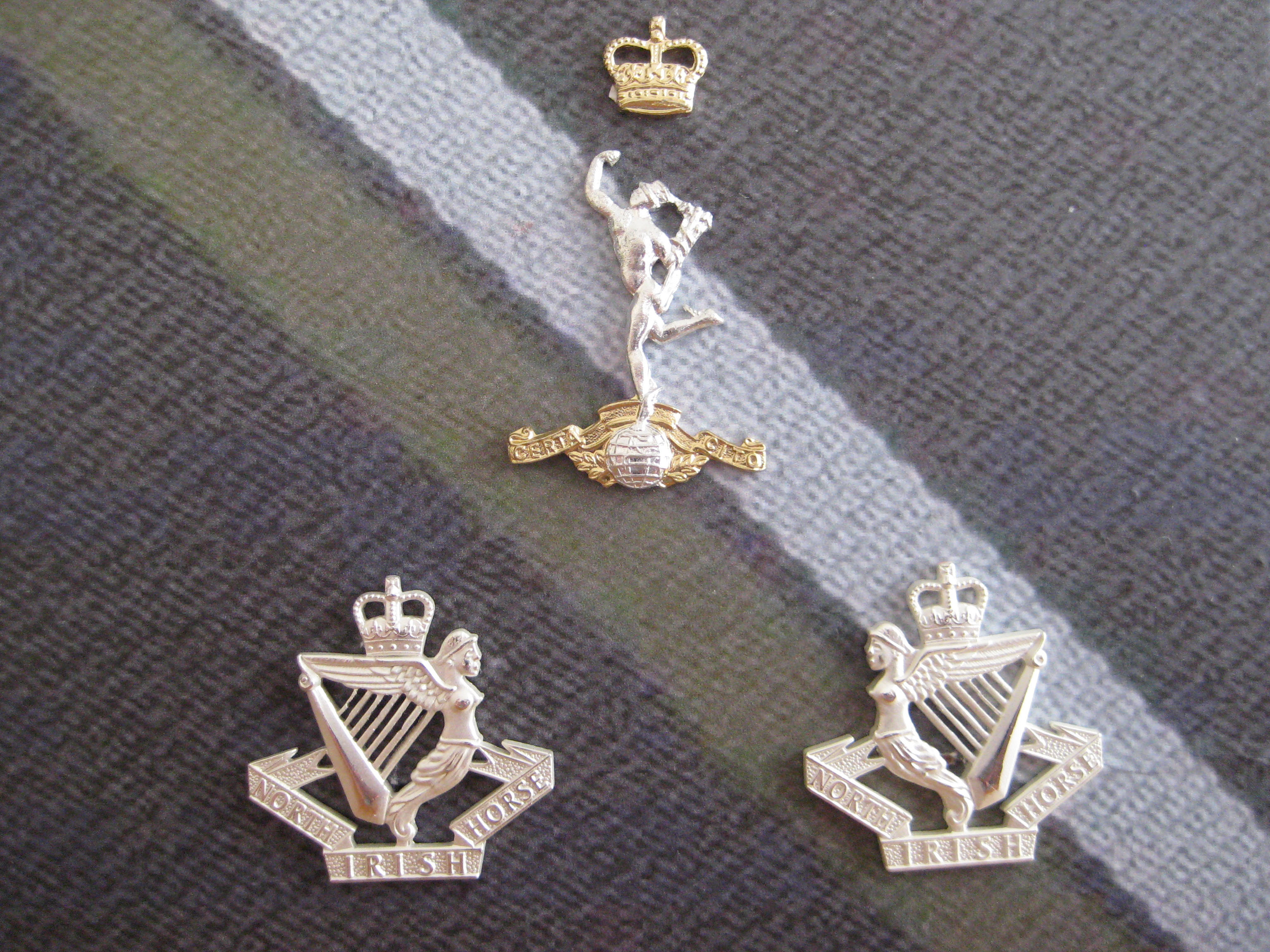 From 1947 to 1969, 69 North Irish Horse operated as an armoured reconnaissance regiment. Under the options for change in 1969 the regiment was formed into 69 North Irish Horse Signal Squadron as part of 32 (Scottish) Signal Regiment. In 1995 the Squadron based at Limavady, joined the other Northern Ireland Signal personnel to become part of 40th (Ulster) Signal Regiment (V).
With the restructuring of TA Signals in April 2010, 40th (Ulster) Signals Regiment (V) was disbanded and after a fifteen year absence, 69 (NIH) Signals Squadron once again became part of the now named 32 Signal Regiment (V)
At the time of making this entry (November 2011) there is still some conjecture as to the name of the Squadron. I am advised by Captain T. Henry Royal Signals who is currently serving with the unit as a Permanent Staff Admin Officer (PSAO) that the Squadron is still officially within the MOD called 69 (NIH) Signal Squadron (V). However, at the current time the Brigadier in command of 2 (NC) Signal Brigade has advised the parent Regiment that the Squadron will be called 40 (NIH) Signal Squadron (V) in recognition of their time with 40th (Ulster) Signal Regiment (V). This has been accepted by the Regiment but is at present not official MOD policy.
As you can see from the photograph below the Squadron still has formal approval to wear the North Irish Horse collar badges in No1 and No2 Dress with the Royal Corps of Signals cap badge. Senior NCOs and Officers still wear the caubeen hat.