JUNIOR LEADERS REGIMENT
ROYAL CORPS OF SIGNALS
&
QEII ROYAL GURKHA SIGNALS
PIPER'S PLAID BROOCH
CIRCA 1952 & 1960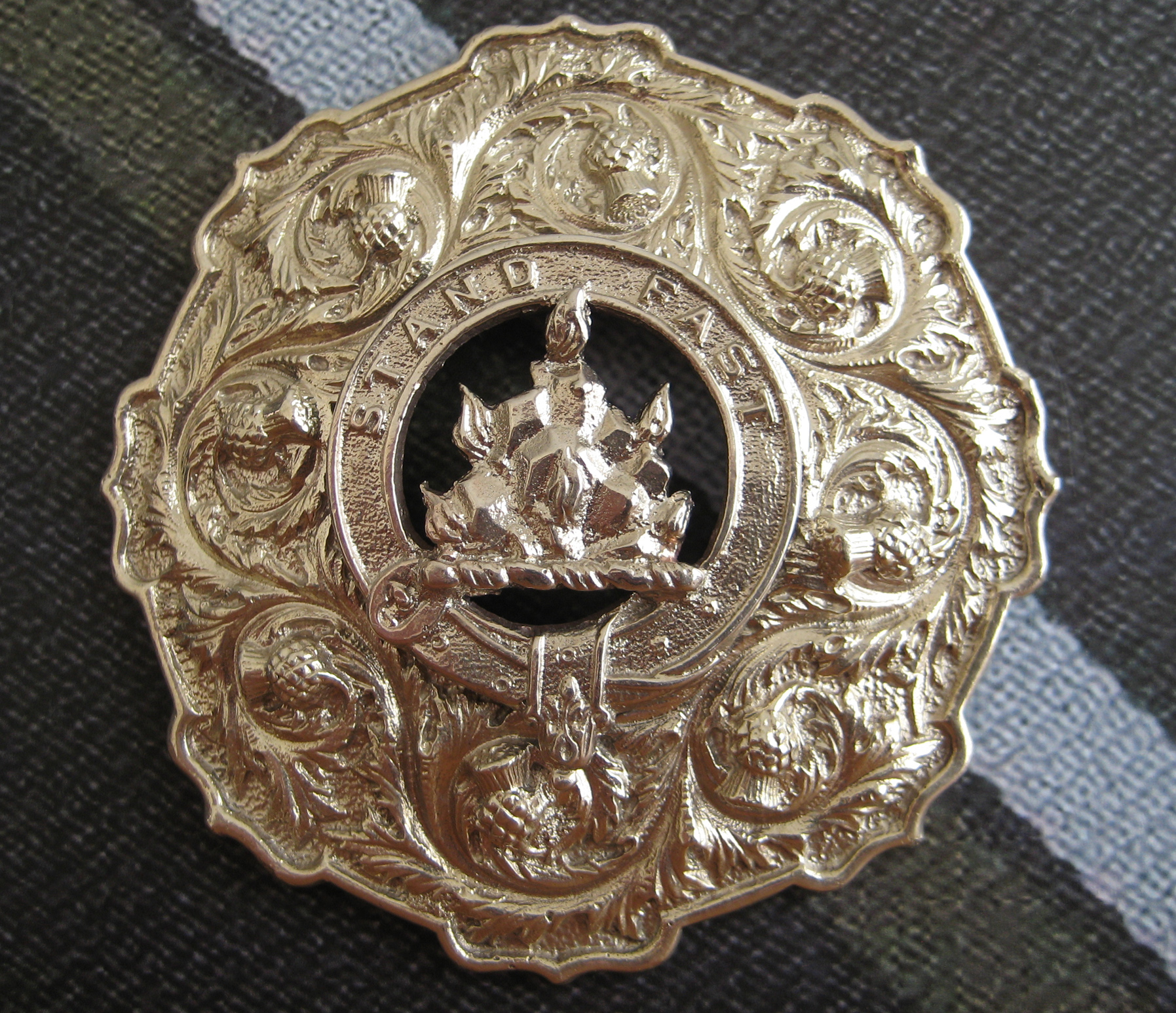 The above illustration is that of the Clan Grant Plaid Brooch depicting a Rolling Thistle design with the motto "Stand Fast" surrounding a Belted Garter and the emblem of the burning hill of Craig Elachie or Rock of Alarm being the rallying point of the Grants when signal fires were lit.
This Plaid Brooch was originally worn by two Corps of Signals Pipe Bands. Firstly, by the Gurkha Signals Pipe Band who's first public performance was September 1955 having been instigated in 1952. Secondly, by the Junior Leaders Regiment, Royal Corps of Signals Corps of Pipes and Drums which came into being in 1960 until it's disbandment in 1967.
Unsurprisingly both of these Pipe Bands were instigated by the same man. Lt. Col. LHM Gregory MBE. In the case of the Gurkha Signals it was as their first Commanding Officer of the Gurkha Signal Regiment from 1952, and also when he was Commanding Officer of the Junior Leaders Regiment, Royal Corps of Signals from 1959 to 1962. Worthy of note is that Lt. Col Gregory was also the creator of the now famous "Ten Tors Expedition".
Below can be seen two photos, one of a Gurkha Piper taken in 1958 and one of Senior Pipe Sergeant Rod Mathieson taken in 1966 and both are wearing the above Plaid Brooch. Also known to many can be seen Drum Major Alan (Drums) Yates BEM.