ROYAL CORPS OF SIGNALS
JUNIOR LEADERS REGIMENT
BERET BADGE & BACK PLATE
1961 - 1966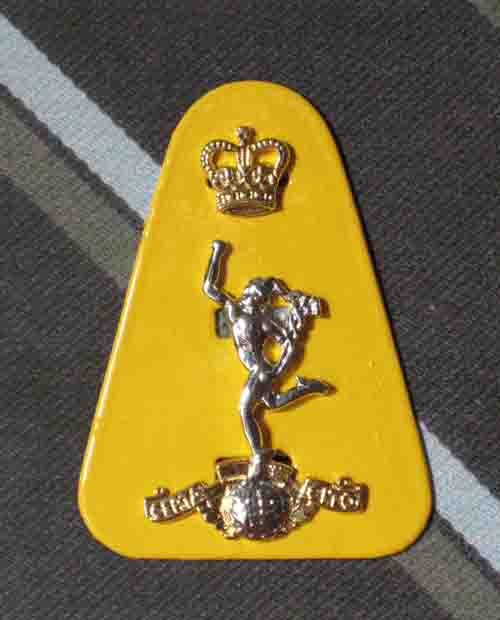 Royal Signals Boy Soldiers of No 6 (Boys) Training Regiment moved from Beverley in Yorkshire to Rawlinson Barracks, Denbury Camp, Newton Abbot, South Devon in September 1955. In April 1957 the unit was renamed as the
JUNIOR LEADERS REGIMENT, ROYAL CORPS OF SIGNALS.
In 1961 a system of coloured back plates or discs was introduced to be worn behind "Jimmy" on berets only. The reason for this was to identify the term that the wearer of the badge and backing plate were currently serving. The colouring of these back plates was as follows.
1st Term, Junior Wing. No Plate. 2nd Term, First Troop Term, Black Plate. 3rd Term, Navy Blue Plate. 4th Term, Green Plate. 5th Term, Red Plate. 6th Term, Yellow Plate. 7th Term or Output Term, White Plate.
This system of coloured back plates for all terms finished in December 1964 after which only the output term wore a coloured back plate. Even this ended in December 1966 and from January 1967 when all troops were disbanded, coloured flashes took their place.
The above illustration shows "Jimmy" with a Yellow Back Plate. This being the colour I wore in my output term in 1966. Unfortunately, the Regiment ceased to exist on the 10th August 1967. My grateful thanks go to Steve Wright of http://www.denburyjuniorleaders.com for his assistance with this item.