ROYAL CORPS OF SIGNALS
32 (SCOTTISH) SIGNAL REGIMENT (V)
PIPE MAJOR'S GLENGARRY BADGE
GILT, 2006 - 2009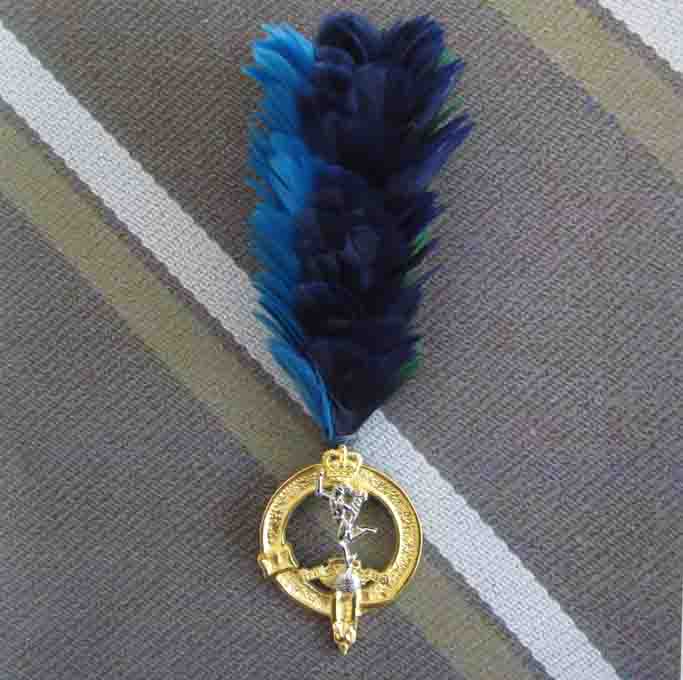 According to the Regimental Drum Major's Association 2004 - 2009 Dress Manual for Pipes and Drums, its seems it is accepted if not official, that Pipe Majors and Drum Majors generally wear SNCO's or Officer's pattern items of dress.
Indeed I have seen a set of 32 (Scottish) Signal Regiment (V) Pipe Band Dress Manual Regulations that states in No 1 Dress (Ceremonial) both the Drum Major and Pipe Major will wear in their headdress a "Cap badge with Gilt Heraldic clan circular strap and buckle". This is more commonly known as a "Belted Garter". This is illustrated above.
Below can be seen Pipe Major John Taylor wearing such a Gilt badge complete with a Corps coloured Hackle. This form of dress was worn by the Pipe Major from 2006 until his move to 19th Regiment, Royal Artillery in 2008. From 2009 the Hackle was replaced once again by the nine inch Cock Feather which was positioned above the badge and was also worn prior to 2006.
Elsewhere on this site can be seen an illustration of the Gilt badge being worn by the Drum Major whilst wearing the ten inch Corps coloured Hackle and Feather Bonnet. This ceased by Corps Dress Regulations in 2009.