ROYAL CORPS OF SIGNALS
32 (SCOTTISH) SIGNAL REGIMENT (V).
PIPER'S GLENGARRY BADGE
(ANODISED)
EARLY 1990's - CURRENT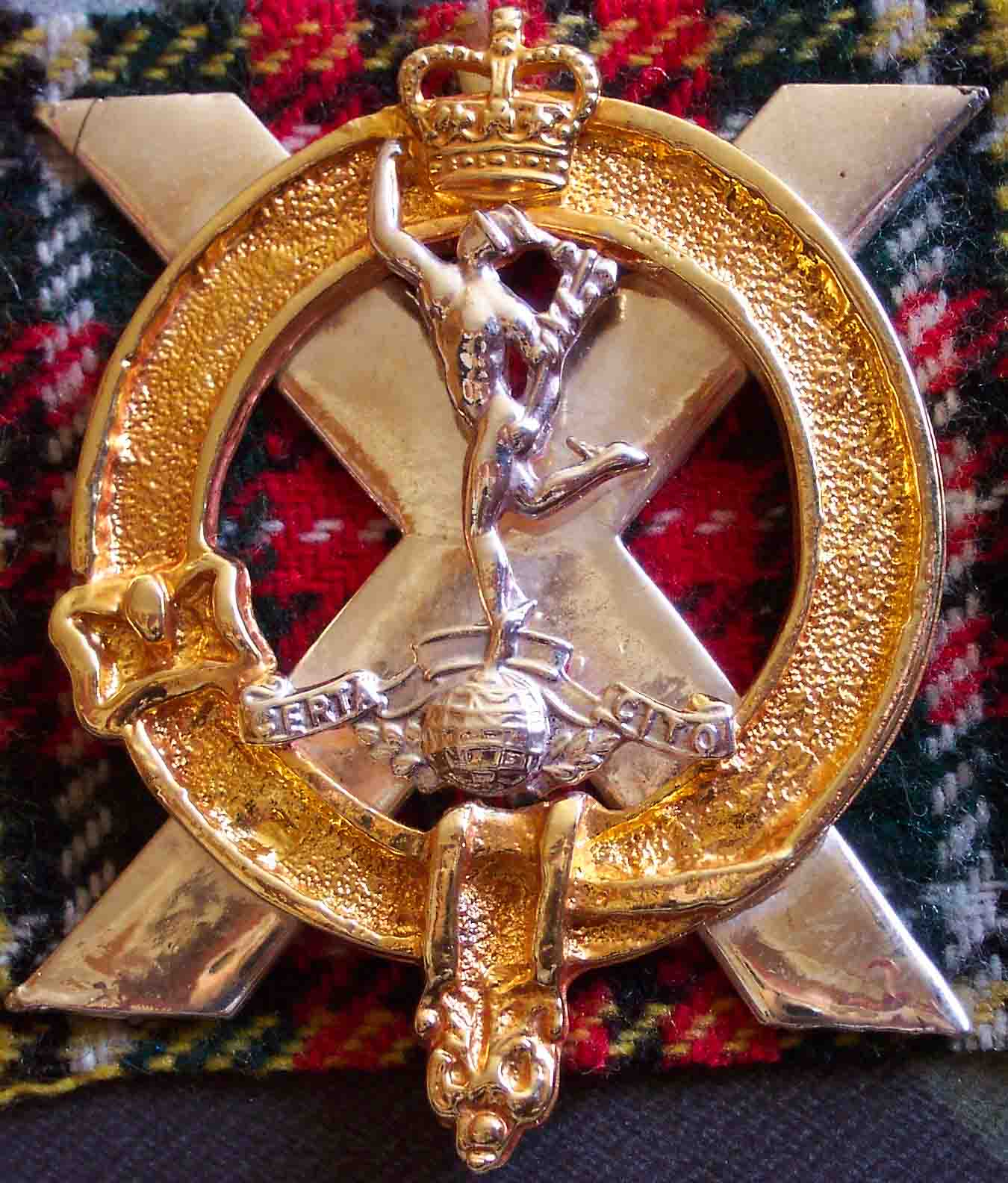 Under the re-organisation of the TA into the TAVR in 1967, 51st (Highland) Sig Regt, 52nd (Lowland) Sig Regt and 61st (City of Edinburgh) Sig Regt were all reduced to squadron size and became part of the newly titled 32 (Scottish) Signal Regiment (V). The unit then consisted of five squadrons HQ,51,52,61 and 82 (AER). A sixth squadron was added in April 1969 when B Squadron, North Irish Horse was rebadged Royal Signals and became 69 (NIH) Signal Squadron.
82 (AER) was disbanded in the early 1970's and under the Option for Change and the TA Review, the Regiment transferred 69(NIH) Signal Squadron to 40(Ulster) Signal Regiment on the 1st April 1995.
The Corps of Pipes and Drums currently wear a Corps cap badge of anodised metal, superimposed upon a golden buckled garter which sits on a St. Andrew's cross. The badge is worn on a Glengarry of dark blue, with a red tuft and sits upon a two inch square of tartan material. Two nine-inch black feathers are mounted behind the badge. This design of badge dates from the early 1990's.
My thanks to Ewen Cameron, Adjutant of 32 (Scottish) Signal Regiment (V) 1981/82 and John Pinkerton OC 69 (NIH) Signal Squadron 1979/85 for their invaluable assistance with this entry.
Owing to the restructuring of the TA in 2009. 32 Signal Regiment (V) lost the prefix (Scottish) due to a number of non Scottish units becoming under their command.